Register

Asheville Workshops
Ongoing intensive workshops in Asheville, North Carolina.
Online, streaming sessions use Zoom - check out our simple tutorial if you've never used Zoom, or just need some tips.
Streaming Figure Drawing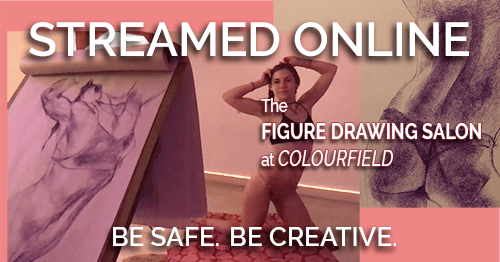 Streaming figure and portrait drawing session with multiple views, one low price. Be safe, be creative, and support artists and models. Poses will vary from 1-minute gestures to 15-minute seated or reclining.

NOTE: This is a REMOTE session; to participate, you'll need the free Zoom browser plug-in. Access codes will be delivered via email approximately 30 minutes prior to session start, so sign up early
Level: all, No prior figure drawing experience required, but a large computer screen is suggested.
Date:

Thursday, June 4th, 2020

Time:

12-2PM EDT, 5-7PM BST, 18-20h CET

Model:

TBA

Spaces:

96 remaining

Cost:

$10 advance, $10 at the door
Date:

Friday, June 5th, 2020

Time:

6-8PM EDT, 11PM-1AM BST

Model:

Elena

Spaces:

93 remaining

Cost:

$10 advance, $10 at the door
Date:

Thursday, June 11th, 2020

Time:

12-2PM EDT, 5-7PM BST, 18-20h CET

Model:

Elena

Spaces:

99 remaining

Cost:

$10 advance, $10 at the door
Date:

Friday, June 12th, 2020

Time:

6-8PM EDT, 11PM-1AM BST

Model:

Elena

Spaces:

94 remaining

Cost:

$10 advance, $10 at the door
---